Ugly Meter
 is not a new application, but with some of the TV program mentioned it recently, this app suddenly exploded in popularity. The company said the number of users has exceeded 500 million. Interesting Ugly Meter basic version is priced at $ 0.99, Professional Edition for $ 4.99, to date, the company claims more than 50million U.S. dollars download fees.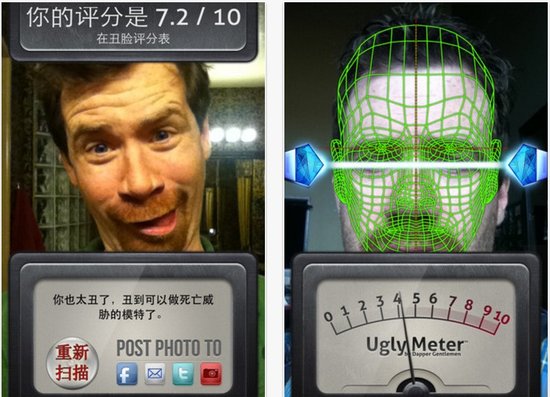 Ugly Meter concept is simple - captured your photos, it would have photos to scan, andthen to your ugly degree of scoring 10 points system.
It would have been very hurt feelings, but it refused to give up, continue to be based onyour score with some "punch" to insult you, for example: "When you were born, obstetrics and gynecology doctor can not stand your appearance, held protest strike. "
Interestingly, the Ugly Meter in the Apple App Store, ranked 26 in the United Statesranked 25, but it is in the UK but not in the top 200. Does this mean that the British people do not care about how ugly it? Or is this new trend has not yet reached the United Kingdom? It remains to be seen.
Industry commented: This application uses the common people of a curiosity, and would like to know, "I have much attraction?" People are willing to pay $ 0.99 to discover howugly or not ugly. Some people are even willing to buy the advanced version, in order to obtain the detailed analysis of their facial structure.
Howard Stern (Howard Stern) in just one day after the radio program mentioned in this application, the Ugly Meter, $ 80,000 accounted for. Visible, public relations self+ awareness applications = money maker.
Related Posts:
Tags:
Apple app
,
Ugly Meter